First Person: Thai teenage drop-out turns peer educator
UN News/Daniel Dickinson Peer educator, Baitoey, (centre) demonstrates the correct usage of male condoms.
Ahead of World Population Day, marked annually on 11 July, Chompunuch Maneechat, known as Baitoey, spoke with UN News about the importance of young people seizing every opportunity to improve themselves and contribute to society with meaningful work.
"I left school in my hometown, Phrae, when I was 15 years old as I preferred going out to clubs at night and taking drugs rather than going to school. I ignored my grandmother's advice that I was wasting my life and that I needed an education because I was just too stubborn. I did not live with my parents.
Looking back, it was a really dangerous time for me. I took downers, which are drugs that calm and relax you, and mixed them with soda and cough medicine, and I would often black out with this combination. I did this pretty intensively for a whole year. I consider myself very fortunate that I was never sexually abused during this time. I was loud and out of control and would travel around on the back of men's motorbikes.
I soon realized I would have to earn some money, but quickly understood that I had very few job prospects, so took a position at a furniture factory where my role was to polish very heavy teak items. It was a tough manual job. I would pass my former friends on my way to work as they walked to school. They were wearing their school uniforms, and I realized how different our lives were.
My life started changing for the better when I started attending meetings arranged by the Palang Jo group, which runs activities with UNFPA in Thailand and Reckitt focusing on drop-outs like myself, but also other interesting initiatives focused on teen pregnancy and sexual and reproductive health advice.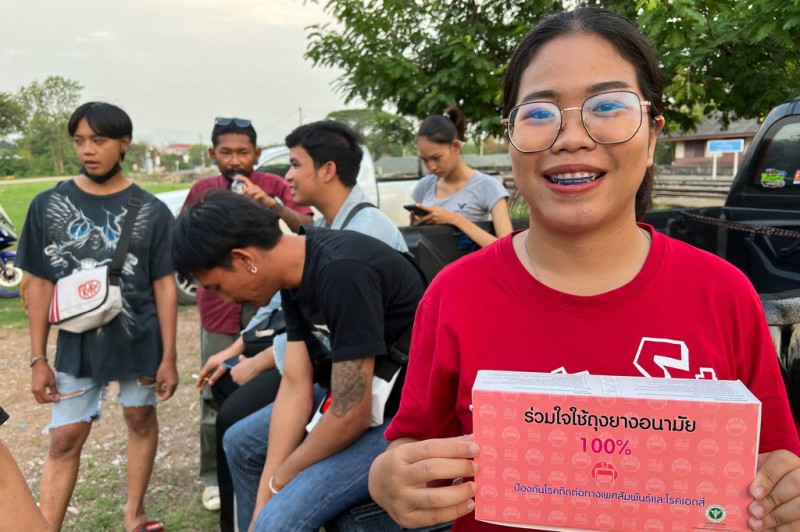 UN News/Daniel Dickinson Baitoey , a peer educator for sexual and reproductive health, prepares to hand out condoms to a group of young men.
I really appreciated the work the group was doing and so became a regular volunteer, and finally I became a youth leader and peer educator, which I am paid for. I had the opportunity to travel to Bangkok, the capital of Thailand, for training with UNFPA, and this was the first time I had ever been on an airplane.
Teen pregnancy
Today, I was part of a Palang Jo team which visited a school in a more rural district outside Phrae city, where there had been an increase of teen pregnancies during the COVID-19 pandemic after students were forced to study at home. 
We had a session with a group of 12- to 13-year-old boys and girls, and we got them to talk about the changes in their bodies as they reach puberty. They also learned about contraceptives, including the birth control pill and implant as well as condoms. There was a lot of laughter when the students had to practice with the condom on a plastic penis.
Later in the day, I went with Palang Jo to the Denchai train station, where older kids gather to socialize. Many of them had, like me, dropped out of school, and they are my friends. I handed out condoms and spoke to them about the risk of teen pregnancy.
I persuaded one of my friends to stop taking drugs, so I see this as a success and a good reason for me to be a peer educator.

UN News/Daniel Dickinson Students aged 12 to 14 learn about male and female condoms.
I am now 23 years old and am studying for a bachelor's degree in community and social engagement. 
If I had a message to my 15-year-old self, it would be to stay in school and study because without an education, it's very difficult to get a good job. Thailand is an ageing society, so all young people have a duty to make the best of the opportunities they have."
2023 UN News User Survey
Thank you in advance for agreeing to participate in our survey so we can improve and tailor our products to your needs. The survey will take no more than 4 minutes to complete.
We want to hear from you. Click here to take our survey!