LDC5 spotlights contributions of women and girls in tech, despite tough odds and persistent barriers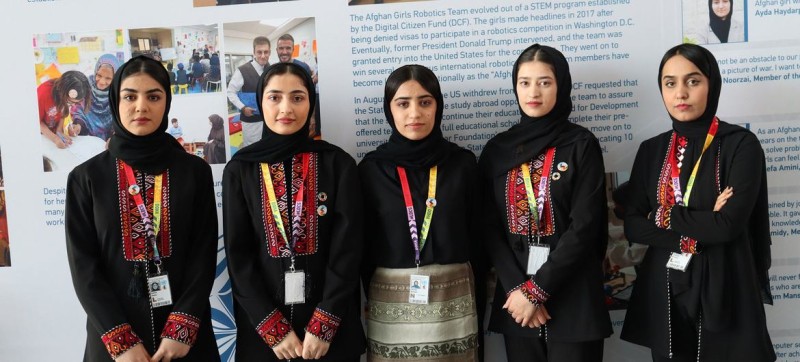 UN News/Anold Kayanda The Afghanistan Girls Robotics Team attended the Least Developed Countries Conference to showcase their innovations.
At the stroke of noon on Wednesday, LDC5 held a moment of celebration near Maman, the iconic bronze and stainless-steel sculpture by the artist Louise Bourgeois that towers over the main atrium at the Qatar National Convention Centre. A celebration of motherhood, Ms. Bourgeois has said it echoes the strength of her own mother, with metaphors of spinning, weaving, nurture and protection. 
"Today should be about reflection and determination to do better, but it should also be a celebration. A celebration of the fundamental contribution made by women and girls, often against the odds, to the achievement of a better world," said Rabab Fatima, the UN High Representative for the Least Developed Countries, Landlocked Developing Countries and Small Island Developing States (UN-OHRLLS).  
However, she reminded the participants, that transformation of our societies for a better, more prosperous and peaceful world "can't happen without first empowering women and girls". 
To that end, she said that the Doha Programme of Action (DPoA) – which aims at removing structural obstacles to comprehensive growth and sustainable development – "can accelerate access and open doors to classrooms, boardrooms and staffrooms for women and girls in all the LDCs," said Ms. Fatima, who is also the Secretary-General of the LDC5 Conference. 
"Let us continue to work towards a world where all women and girls have equal access to every opportunity." 
The jubilant ceremony also featured a traditional African dance performance by Muda Africa from Tanzania, the winner of the UNESCO International Fund for Cultural Diversity, which helps creatives seize the opportunities offered by the digital environment.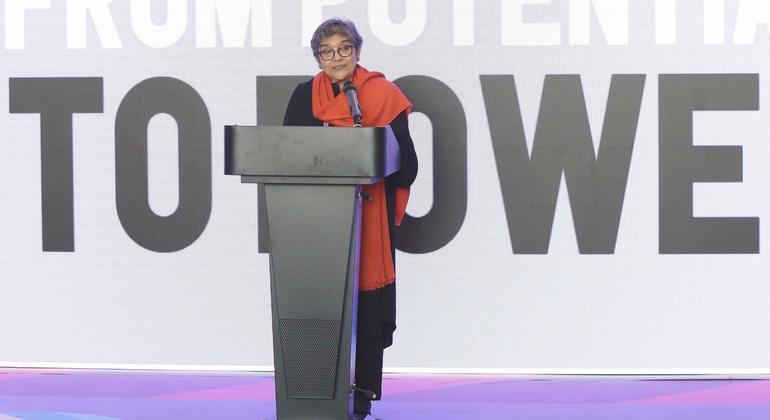 UN Photo/Ruwan Dilanka
Lagging representation in STI 
The theme of this year's International Women's Day, 'Innovation and Technological Change: Education in the Digital Age', is directly relevant to the focus of the LDC5 Conference. These topics feature prominently in DPoA and have been the subject of discussion by all stakeholders in Doha for the past five days.  
According to the UNESCO Institute for Statistics (UIS), only 30 per cent of researchers in LDCs are women. Even female researchers who have navigated their way to science, technology and innovation (STI) fields they tend to have shorter, less well-paid career and are typically given smaller research grants than their male colleagues because of ingrained discrimination and bias. 
Quality and inclusive education, with a focus on basic digital literacy and technical skills in science, technology, engineering, and mathematics (STEM) and information and communication technology (ICT), will contribute to promoting gender equality and empowering all women and girls in LDCs, including those in rural areas. 
Ms. Fatima said there could be a breakthrough in higher education in LDCs "by eliminating many artificial barriers that stand in the way of equal participation of women and girls, in higher education, especially at STEM fields." 
"That is why the DPoA has a concrete target in this area, to undertake feasibility studies for establishing an online university," explained Fatima. "The university's goal is to achieve a 50/50 gender balance at all levels, while also guaranteeing special access for the poorest people and in vulnerable situations."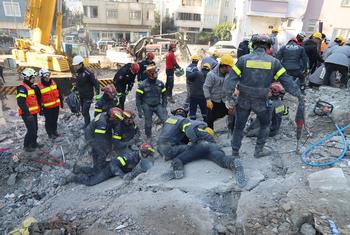 Türkiye-Syria Earthquake
DONATE!
Emergency and search-and-rescue teams have deployed to assess and prioritize urgent needs and to provide life-saving assistance following the devastating earthquake near the Türkiye-Syria border.