Cracking the code to a fairer digital future for women
UNMISS/JC McIlwaine for UN Women A midwife accesses online training at a camp for Internally Displaced Persons in Juba, South Sudan
Despite the increasing digitalization of everyone's daily lives, the digital gender gap has grown; globally around 63 per cent of women have access to the internet today, compared to 69 per cent of men.
Across all areas of digital technology, women and girls remain under-represented, from coding and creating, to accessing services, and drafting regulations and policy. This disparity comes at a considerable cost: UN Women estimates that, if women's exclusion from the digital sphere was ended, some $1 trillion could be added to the GDP of low and middle-income countries.
And women and girls are often put off by an actively hostile environment in the sector; on average, women are paid 21 per cent less than men, they face considerably lower rates of promotion, and nearly half report workplace harassment.
These statistics underline the urgent need to change the online environment, and widen access to women and girls. The UN is backing a wide range of projects supporting this aim; here are some examples.
'With little to no resources, I can make a huge difference'
When she learned that her high school in Eswatini offered classes on information and communication technologies, student Sizolwethu Maphanga was not interested: as far as she could tell, there was no connection with the real-world challenges she saw facing her community and country, something that research has shown is a key driver of many girls' career choices.
"I was fortunate enough to have enrolled," she says, "but I was never that much in love with it."
Everything changed for Sizolwethu when she attended a coding camp run by the African Girls Can Code Initiative. There, she says, her passion for tech grew as the camp "opened my eyes to the game changing innovations that can impact Africa. I learned that, with little to no resources, I can make a huge difference if passion and determination are there."
Find out more about how the UN-supported camp, which has ignited a spark in the minds of hundreds of girls, here.
© Ed Pagria Globally, around 63 per cent of women have access to the internet today, compared to 69 per cent of men.
The gender games: WeRise
Ending gender inequality is not something to play around with, but in the Middle East and North Africa (MENA), WeRise, a new app is proving that online games can raise awareness and foster discussions on gender roles and stereotypes.
The app offers games and puzzles, and a social platform for users to share posts, interact on forums, and call for action, on topics linked to gender. Since it launched in July 2022, it has been downloaded thousands of times, and is the number on development organized-sponsored app in the region.
Designed as a "youth for youth" project, and supported by UN Women, WeRise was developed by over 100 young people from Egypt, Lebanon, Jordan, Morocco, Palestine, and Tunisia, and is available in Arabic, English and French.
Read the full story here.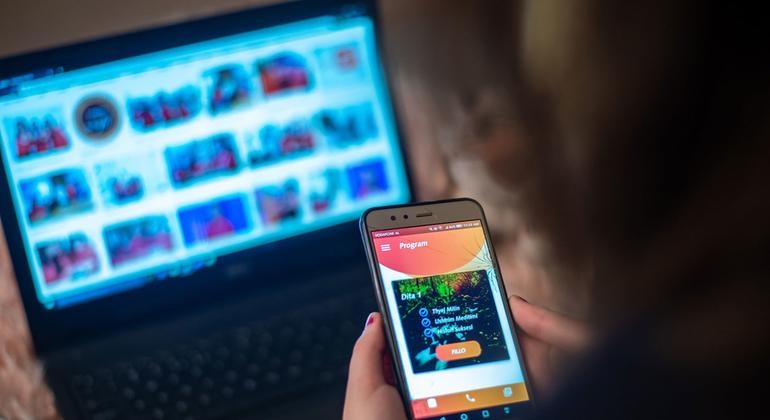 © Ed Pagria Victims of domestic violence may be unable to access support, if their abusers control their communication devices.
SOS in Serbia
The lockdowns imposed by many countries in the wake of the COVID-19 pandemic saw a significant rise in domestic violence, with women finding it even harder to escape their abusers. Often, their phones are monitored and, if it is discovered that they have tried to call or text a support organization, they can face even greater risks.
A Serbian organization, SOS Network of Vojvodina, decided to create an app that would allow women to report violence and seek help without their abuser noticing, even if their communications were being monitored.
The app, which is disguised to prevent detection, contains an SOS button enabling users to call, or live chat, with support organizations offering psychosocial support, counselling, and referral to places that can supply other services.
"Giving women the choice to decide for themselves how and whom they will contact in cases of violence was both the biggest challenge and the biggest motivation," says SOS Network of Vojvodina President Biljana Stepanov. "It sends the message to women that there is a way out," says Biljana. "They are not alone."
Read more here.
International Women's Day a 'call to action': UN chief
In his message for the Day, UN Secretary-General Antonio Guterres called for the digital divide to be closed, and for the representation of women and girls in science and technology to be increased.

"When women are under-represented in developing new technologies, discrimination may be baked in from the start," added Mr. Guterres, noting that, whilst technology can expand pathways to education and opportunities for women and girls, it can also be used to amplify abuse and hatred.

He described International Women's Day as a "call to action" on women's rights, including protection against sexual exploitation and abuse, and accelerating women's full participation and leadership.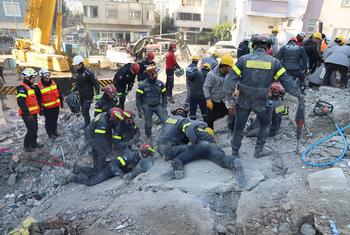 Türkiye-Syria Earthquake
DONATE!
Emergency and search-and-rescue teams have deployed to assess and prioritize urgent needs and to provide life-saving assistance following the devastating earthquake near the Türkiye-Syria border.