UN working to reduce tensions following Israel minister's holy site visit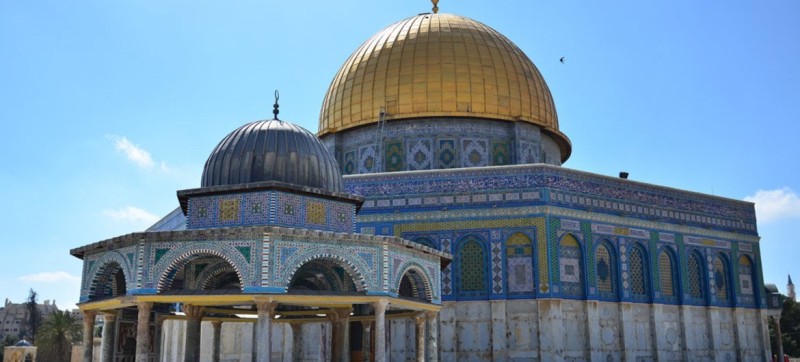 Flickr/Tony Kane The Haram al Sharif/Temple Mount in Jerusalem.
Ambassadors were briefed by Khalid Khiari, a UN Assistant Secretary-General, who expressed concern over the developments and the broader ongoing tensions and violence in the occupied West Bank.
Tweet URL
On Monday, Israel's new National Security Minister, far-right party leader Itamar Ben-Gvir, visited the hilltop compound in Jerusalem's old city that is sacred to both Jews and Muslims.  He was reportedly accompanied by a heavy security detail. 
Visit viewed as 'inflammatory' 
This marked the first time since 2017 that an Israeli Minister has visited the site, known by Jews as Temple Mount and by Muslims as Haram al-Sharif, and which is administered by Jordan. 
The Al-Asqa Mosque, located there, has seen previous clashes between Israelis and Palestinians.  
"While the visit was not accompanied or followed by violence, it is seen as particularly inflammatory given Mr. Ben-Gvir's past advocacy for changes to the status quo," said Mr. Khiari. 
The move drew sharp condemnation from the Palestinian Authority, and many others from across the region and the international community, who viewed it as provocative. 
'Deeply fragile' situation 
"As we have seen numerous times in the past, the situation at Jerusalem's Holy Sites is deeply fragile, and any incident or tension there can spill over and cause violence throughout the Occupied Palestinian Territory, in Israel, and elsewhere in the region," he said. 
"With that reality in mind, I reiterate the Secretary General's call for all parties to refrain from steps that could escalate tensions in and around the Holy Sites, and for all to uphold the status quo, in line with the special role of the Hashemite Kingdom of Jordan." 
Mr. Khiari said the UN has remained in close contact with relevant parties to de-escalate the situation, and this engagement will continue. 
"At this sensitive moment, all efforts to lower tensions should be encouraged, while provocations, inflammatory steps, unilateral actions and threats of violence must be categorically rejected," he told the Council. 
"Leaders on all sides have a responsibility to lower the flames and create the conditions for calm," he added.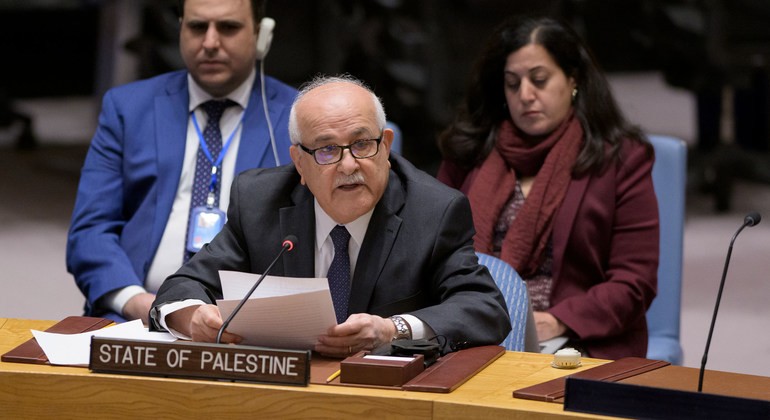 UN Photo/Manuel Elías
Advancing an 'extremist agenda': Palestine 
Palestinian representative Riyad Mansour insisted that the Israeli Minister did not go to the holy site just to visit.  
Rather, Mr. Ben-Gvir "is pursuing the same extremist agenda he has pursued all his life – ending the historic status quo," he said, adding "that is his objective regardless of the consequences. The same agenda he was elected on and joined the Israeli government to advance." 
Haram Al-Sharif is located in occupied East Jerusalem, which is an integral part of the Occupied Palestinian Territory, Mr. Mansour told the Council.
"Israel has no claim and no right to sovereignty over the Occupied Palestinian Territory, including East Jerusalem, and therefore no rightful claim over Al-Haram Al-Sharif," he said. 
Mr. Mansour insisted that there can be no peace without Jerusalem. 
"The future of conflict and peace in our region will be determined in Jerusalem, not any other capital around the world," he said. "Anybody who says otherwise is either delusional or lying."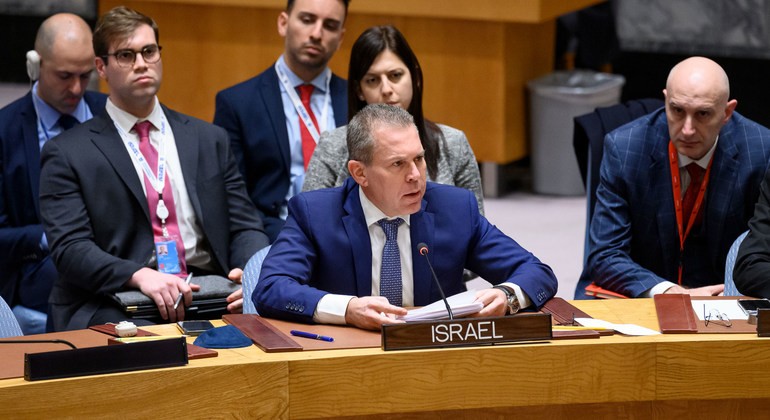 UN Photo/Loey Felipe
'A trivial matter': Israel 
Israeli Ambassador Gilad Erdan said he was "overjoyed" to learn the Council had convened an emergency session on the Minister's "quiet, orderly and uneventful visit" to Temple Mount. 
"I figured that if this important body is meeting to discuss such a trivial matter, then we clearly achieved world peace overnight," he remarked.  "After all, why else would this Council dedicate its time to such a menial occurrence?" 
Mr. Erdan said the visit was in line with the status quo, and those who claim otherwise are only inflaming the situation.  
"Jews are allowed to visit the Temple Mount – every Jew, including the Minister tasked with the security and safety of the Temple Mount," he stated.  
Rather than protecting the sanctity of the site,  Palestinians have turned it into a battleground, he said. 
"Time and again, the mosques are used as arsenals, where tourists keep rocks and explosives to attack Jewish visitors and security forces", he added. "The hallowed ground is used as a platform for Palestinian incitement, poisoning the minds of youth and stoking the flames of violence."