UN deputy chief praises China's investment in tackling climate change, forging 'new development pathway'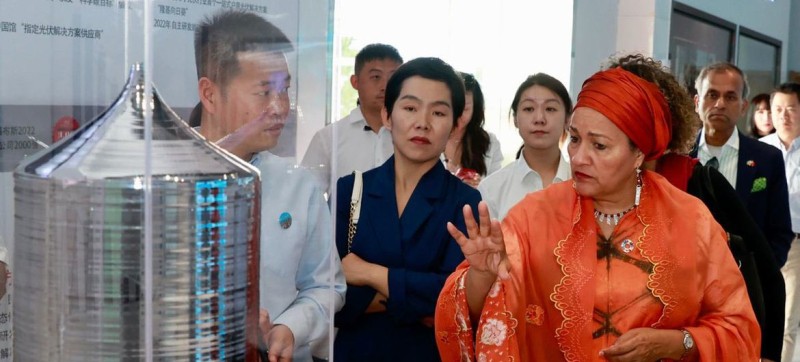 UN China/Yun Zhao UN Deputy Secretary-General Amina Mohammed visits a photovoltaic full industry chain project in Ordos, China.
"The challenges are many and they are serious", Amina Mohammed said, highlighting the plight of the planet.
"Almost all our indicators on the climate and ecological crises are pointing in the wrong direction."
She praised China's role in being an innovator and believer in the power of multilateralism to overcome challenges through collection action, pointing out that over half of the world's new renewables are projected to be in China, both this year and next.
"This gives you a flavour of just how critical China is to tackling climate change and protecting nature".
China 'decoupling growth from emissions'
As one of the world's largest economies and a major emitter of greenhouse gases as well as a major investor in renewables, she said China had an opportunity "to set the example of a new development pathway that decouples growth from emissions. One that ensures a renewable energy and climate-resilient future we strive for that is equitable, just and balanced."
She pointed to the investments made by China in tackling climate change, singling out its role in the Presidency of COP15, where countries agreed the Kunming Montreal Global Biodiversity Framework last December.
"This commits to reverse biodiversity loss and end our war on nature", said Ms. Mohammed.
Just last week, countries formally adopted a new UN treaty to protect marine biodiversity and ecological systems and the International Energy Agency reports investment in solar is set to overtake global investment in oil production for the first time, she added.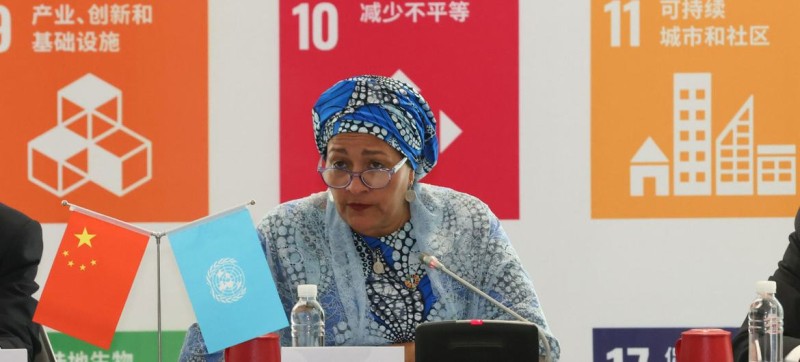 UN China/Junjie Cao UN Deputy Secretary-General Amina Mohammed speaks at the roundtable "Corporate Action on Climate and Sustainable Finance to Accelerate the Sustainable Development Goals" in Shanghai, China.
China driving investment
"This is a milestone to be celebrated. And China's enormous investments have played an important part", she said. 
She said amid the overlapping climate crises the was also hope.
"Averting the worst of climate change remains possible. This is the clear message from the Intergovernmental Panel on Climate Change (IPCC), the United Nations body that assesses the climate science."
She reminded that the Secretary-General has called on the largest 20 economies, including China, to work together to accelerate climate action.
'Sustainable, equitable' partnerships
She said China now can set a further example beyond the renewables sector, "one of partnership. This shows how we can move away from predatory and exploitative practices that have often characterized the extractives industry, and move towards partnerships that will ensure sustainable, equitable and resilient supply chains."
She pointed to the upcoming Climate Action Summit in Nairobi convened by Africa, and for Africa, saying "it would be an ideal place to build partnerships".
But to respond to the scale of the challenges we face, we need China, and all countries to do more, said the deputy UN chief, "and young people must play a vital role."
"You can use your voice and influence to make clear how important action on climate and nature are to you. To engage with the Government and businesses at all levels to go further and to cooperate", she added.
"I urge you to apply the dedication and imagination that has led to you to this hall today, to help to build a cleaner, safer fairer world for us all."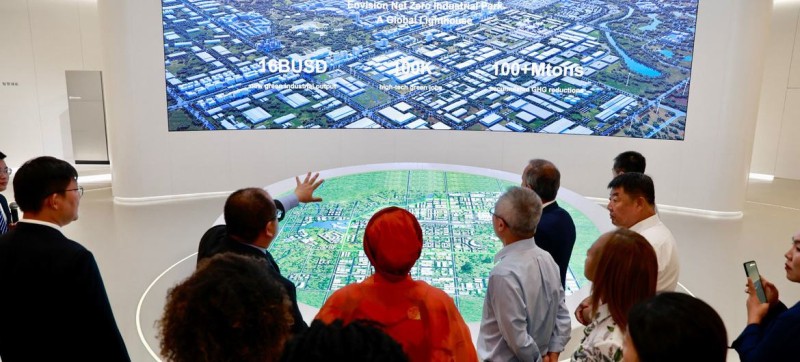 UN China/Yun Zhao UN Deputy Secretary-General Amina Mohammed (centre) visits the Net Zero Industrial Park in Ordos, China.
AI and the SDGs
Peking University was the last stop of Ms. Mohammed's visit to China, which began this past Sunday in in Shanghai.
While there she participated in roundtables with business leaders including some international chambers of commerce to highlight the importance of sustainability, technology, innovation, and Artificial Intelligence to deal with the challenges of climate change as well as accelerate progress towards achieving the Sustainable Development Goals (SDGs).
Ms. Mohammed also traveled to Huzhou City in Zhejiang Province and visited the UN Global Geographic Information Knowledge and Innovation Center, which seeks to strengthen data for the Goals.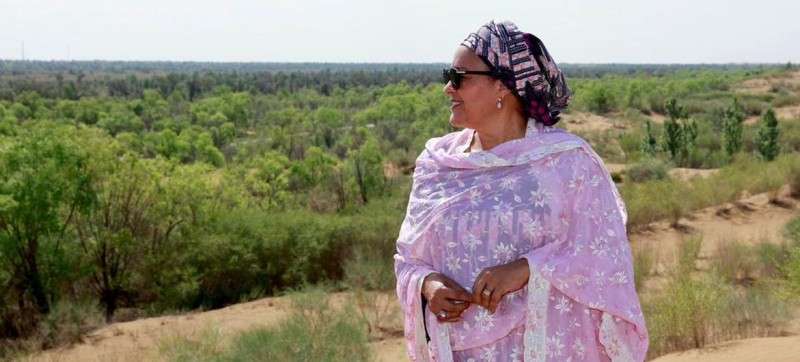 UN China/Yun Zhao UN Deputy Secretary-General Amina Mohammed visits a sand prevention and river protection shelter forest project in Kubuqi, China.
Inner Mongolia: Afforestation and sand drift prevention projects
Next up, the Deputy Secretary-General travelled to Inner Mongolia, where she met Provincial leaders and acknowledged the regional efforts on climate action and long-term investments in afforestation. It was followed by a visit to the world's first zero-carbon industrial park in Ordos. 
Ms. Mohammed also undertook a visit to an afforestation project and sand drift prevention projects in Kubuqi, which also hosts China's largest single-stage solar farm. The Kubuqi region comprises around 18,600 square km of golden sand dunes that plunge south in an arc from the Yellow River. Centuries of grazing had denuded the land of all vegetation, and the region's 740,000 people were wallowing in isolated poverty.
A 'just transition' amid climate crisis
Back in Beijing yesterday, the Deputy Secretary-General held meetings with Government officials, which included the Director of the Office of the Central Foreign Affairs Commission, the Executive Vice Foreign Minister, the Minister of Environment, and China's Special Envoy for Climate Change.
She outlined the benefits of financing and aligning China's development objectives with the SDGs. Ms. Mohammed also expressed the urgent need for all leaders to embrace a just transition amid the climate crisis.
She further expressed the importance of an ambitious and action-oriented dialogue among leaders at the UN General Assembly in September at this crucial midpoint of the 2030 Agenda and the Paris climate accord.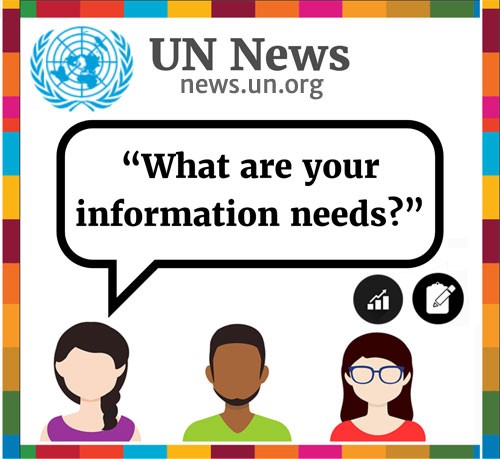 2023 UN News User Survey
Thank you in advance for agreeing to participate in our survey so we can improve and tailor our products to your needs. The survey will take no more than 4 minutes to complete.
We want to hear from you. Click here to take our survey!