Stamping out corruption can give SDGs $3 trillion boost
Play video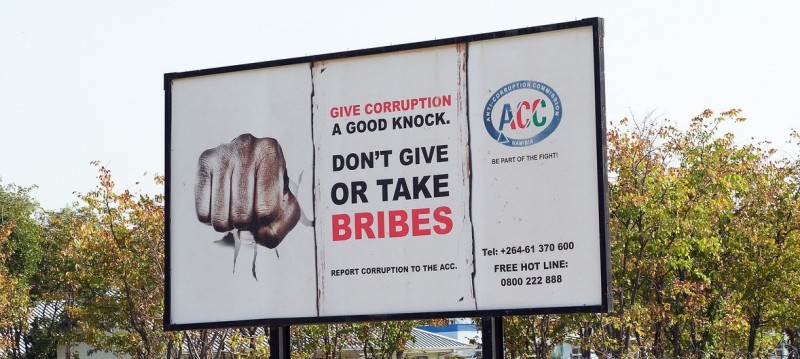 World Bank/Philip Schuler Anti-corruption sign in Namibia.
"Corruption drains more than 5 per cent of the global GDP," said Lachezara Stoeva. "Of the approximately $13 trillion in global public spending, up to 25 per cent is lost to corruption."
Tweet URL
That translates into at least $3 trillion for public spending.
Under the theme, Unleashing the transformative power of Sustainable Development Goal (SDG) 16: Improving governance and reducing corruption, the special meeting aimed at identifying concrete solutions to promote anti-corruption practices at all levels.
Participants also reflected on the role of principles for effective governance and highlighted such instruments as the UN Convention against Corruption.
Stakes 'never been higher'
"A resolute response to corruption, anchored in SDG 16, would pave the way for bringing the ambition of the 2030 Agenda closer to reality," Ms. Stoeva said. "The stakes have never been higher."
Indeed, the costs of corruption are not merely financial, she explained.
"Corruption contributes to the loss of natural resources, exacerbates poverty and inequality, erodes trust and social cohesion, and undermines economic and political stability," she said.
Corruption 'stands in our way'
Corruption also disproportionately affects women, the poor and vulnerable groups, and erodes human capital, she said.
At the mid-point in the implementation of the 2030 Agenda the urgency of accelerating implementation of all 17 SDGs has never been greater, she said, emphasizing that "corruption stands in our way".
"Progress on SDG 16 on peace, justice, and strong institutions can unleash a virtuous circle," she said, adding that the goal is an "indispensable requirement" for the effective implementation of all the SDGs.
In return, progress on the SDGs becomes an enabling factor for more effective responses to corruption, she said.
Frameworks in place
Citing "significant progress" in using available instruments, the ECOSOC chief said countries have implemented a variety of measures, awareness has been raised, and better legislative and regulatory frameworks are in place.
In addition, stakeholders are tapping into the potential of ICTs (information and communications technology) and data, she said. Parliaments, citizens, and civil society are engaged in monitoring corruption risks and anti-corruption responses, she added.
Tackling challenges with tailored approaches
However, effectively addressing the challenges requires sustained anti-corruption efforts and tailored approaches that engage multiple stakeholders and combine various international agreements, laws, and conventions, she said.
"It is critical to strengthen monitoring and evaluation to improve anti-corruption, gather evidence of effective reforms, and report on progress on SDG 16," she stated.
Insights from the special meeting will provide input to forthcoming gatherings, including the SDG Summit at UN Headquarters in New York in September and the SDG 16 Conference, to be held in Rome in May.
Learn more about what the UN Office on Drugs and Crime (UNODC) is doing to fight corruption here.
Corruption drives forest crime