In a dangerous and divided world, yoga yields 'precious' benefits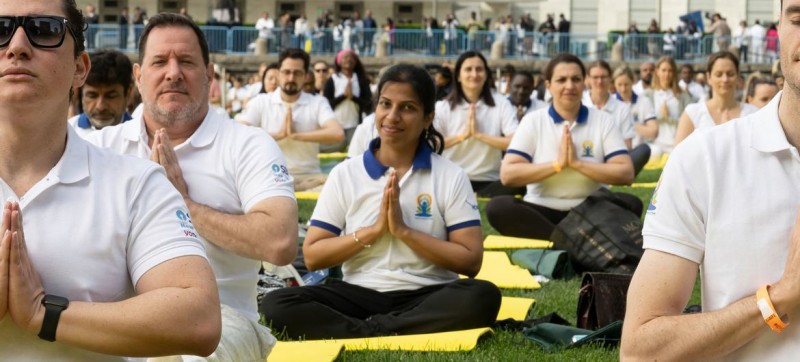 UN Photo/Mark Garten Participants join an event at UN Headquarters in New York to mark the 9th International Day of Yoga.
This year's observance organized by the Permanent Mission of India to the UN in collaboration with the Secretariat, took place under the theme, Yoga for Vasudhaiv Kutumbakam ("the world is one family").
In his video message for the event, the UN Secretary-General António Guterres reminded everyone that in a dangerous and divided world, the benefits of this ancient practice are particularly precious.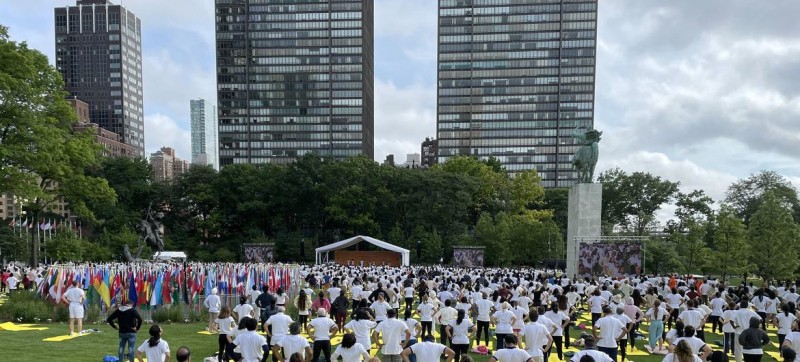 UN News/ Sachin Gaur Yoga event at the United Nations headquarters in New York on International Yoga Day.
Yoga unites
Noting the various benefits, "yoga unites", he added.
"It unites body and mind, humanity and nature, and millions of people across the globe for whom it is a source of strength, harmony, and peace."
Careful arrangements were made to mark the day in a scenic setting close to New York City's East River on the UN campus, including a display of the flags of each UN Member State. 
The North Lawn area was converted into a temporary yoga studio to host the outdoor event, which was led by the Indian Prime Minister Narendra Modi.
In his remarks, PM Modi stressed that Yoga is free from copyright, patents or royalties. It is unifying and is for all ethnicities, faith, cultures.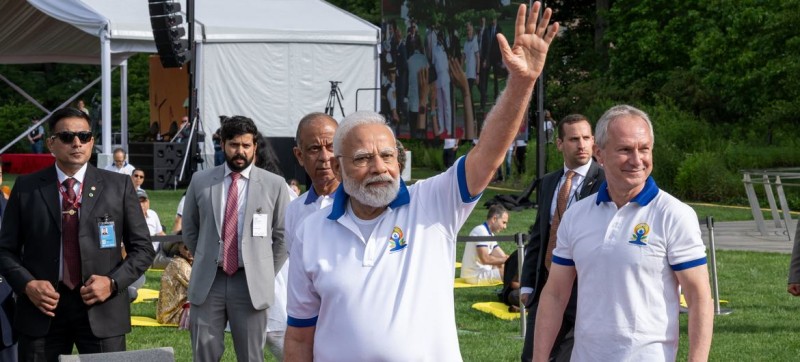 UN Photo/Mark Garten The Prime Minister of India, Narendra Modi, joins the 9th International Day of Yoga celebrated at United Nations Headquarters in New York.
'A way of life': Prime Minister Modi
"When we do yoga, we feel physically fit, mentally calm and emotionally content. But it is not just about doing exercise on a mat. Yoga is a way of life," PM Modi said.
The UN General Assembly adopted a unanimous resolution declaring June 21 the International Day of Yoga, back in December 2014. Since then, millions of people have participated in the celebration every year across the world.
'An ethical guide'
Yoga is an ancient physical, mental and spiritual practice that originated in India, with the Sanskrit word yoga meaning 'to unite' – symbolizing the union of body and consciousness.
The President of the UN General Assembly, Csaba Korosi pointed out how yoga also promotes sustainable lifestyles and leads to overall societal well-being.
He said that thanks to his daughter, "I understand better yoga's ethical guide. The guide which includes the principles of non-stealing, non-greed and nonviolence. In other words, yoga's ethical guide is a guide to sustainability."
​"Not overusing resources that belong to all of us. Not prioritizing short-term gains over planetary boundaries.​​ And working for transformation."
Following the remarks, a yoga instructor led the opening chants and demonstrated basic yoga asanas (poses) as yoga lovers wearing customized white t-shirts joined in.
'A sense of openness': Richard Gere
Delegates from the UN Member States, officials, and staff of the Secretariat as well as eminent New Yorkers from all walks of life, were present at the event.
Hollywood actor Richard Gere told UN News, "usually we come to the UN, it´s very political, very goal-oriented to getting something done. But this is a place where you can feel that everyone has an incredible sense of openness, of sharing, there´s a great joy here."
"I would hope this energy infuses the main building as well and especially the Security Council and its sense of responsibility…a very large human family, so we can work together."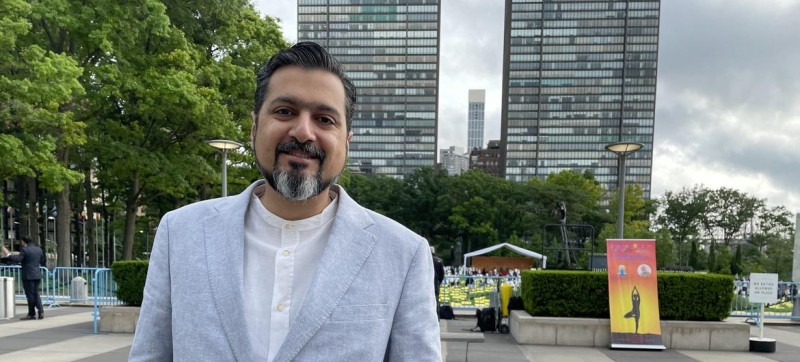 UN News / Sachin Gaur Award-winning music composer and UNHCR Goodwill Ambassador Ricky Kej also attended the Yoga Day event at UNHQ in New York.
'Healing powers'
Also attending the event was Grammy award winning music composer and UNHCR's Goodwill Ambassador Ricky Kej. Speaking to UN News, Mr. Kej underscored the deep connection between Yoga and music.
"Yoga is far more enjoyable when there is music and I create a lot of music for yoga… I believe that both have got very strong healing powers and very strong palliative powers."
"Everybody talks about preventative health and yoga is exactly that. If you lead a lifestyle of yoga, then basically you've got less chance of falling ill and can lead an overall life for wellness."