Combating drought, one garden at a time
WFP/Pamela Gentile A WFP-supported community gardening project in Satara, Niger, includes participants like Foureyratou Saidou, who are seeing their incomes grow, along with their hopes for the future.
The unpaved road to the village is bumpy and sandy. For people living here, however, the path and the intense heat are part of daily life.
High temperatures have not stopped Foureyratou Saidou, a single mother of four and recent widow, from tending to the community garden next to the village. The payoffs are worth it, she said.
"In this garden, we now grow and harvest onions, tomatoes, lettuce, and other vegetables that we eat and that we can sell in the local market," she says. "Before, we didn't have much to live for. Now we do, and we don't want to leave."
Ms. Saidou is among thousands of farmers benefiting from the World Food Programme's (WFP) integrated resilience programme, launched nearly a decade ago in Niger and four other Sahel countries – Burkina Faso, Chad, Mali and Mauritania.

WFP/Souleymane Ag Anara A woman waters a community garden under a baking sun in Satara, Niger.
Harvesting hope
She is also among millions of women farmers across the world who are harvesting hope ahead of the World Day to Combat Desertification and Drought, observed on 17 June. Her leafy garden represents a step towards cultivating land into a livelihood.
Supporting the Niger government's national priorities and in partnership with multiple UN and non-governmental partners, the WFP initiative covers such areas as land rehabilitation, livelihood diversification, school meals, nutrition interventions, and improved agricultural production and market access. 
So far, the effort is assisting 3 million people across the Sahel region, including 1.8 million in 2,000 villages in Niger last year, to better prepare for and recover from myriad interconnected shocks, including climate change, land degradation, soaring prices, and conflict.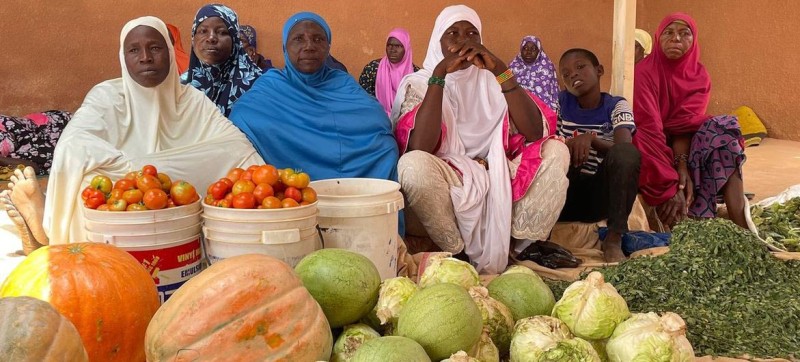 WFP/Pamela Gentile Women sell their garden surplus at a local market in Niger's Tillaberi region.
Turning the tables
In regions severely affected by the ongoing food crisis, 80 per cent of villages benefitting from WFP resilience activities did not require humanitarian assistance in 2022, according to the agency. That translates into about 500,000 people who did not need emergency support, or about $30 million in savings, according to the UN agency.
Unrolled across the country, the programmes also promote women's participation and empowerment, with a sharp focus on areas with the highest food insecurity that tend to face conflict or host large concentrations of displaced people, intensifying demand for scarce resources.
The initiatives include land rehabilitation, using such innovative techniques as digging in half-moon shapes that slow and capture rainwater flow, which helps to improve plant growth.
So far, more than 233,000 hectares have been rehabilitated since the initiative's launch in 2014, with WFP now planning to expand to new areas and equip more people with the tools they need.
Tools to thrive
Such efforts are critical, as newly released expert findings show that acute food insecurity in the Sahel is expected to reach a ten-year-high by June, the agency said. In Niger, the findings predict some 3.3 million people will be acutely hungry during the June-August lean season, up from 2.5 million now. 
"Turning around these numbers requires not only short-term actions but, above all, actors coming together to implement more sustainable and transformative solutions at an impactful scale," WFP Niger Country Director Jean-Noel Gentile said. "Through our integrated resilience projects, WFP with the government and partners are together empowering vulnerable populations to have the tools they need to thrive."
'It all starts with the land'
WFP has scaled up its resilience activities in Niger, after findings showed they have restored natural resources, increased farm revenues, reduced migration and conflict over scarce resources, and improved education and nutrition.
"It all starts with the land," said Volli Carucci, who heads WFP's resilience programme. "Without productive land, there's no food production. The land is the starting point of resilient food systems, which communities can count on."
That's the case in Satara, where a WFP-supported community gardening initiative has transformed once-barren land. 

WFP/Souleymane Ag Anara An aerial view of WFP-supported community gardens in Niger's Tillaberi region, which are part of a broader, multi-partner Sahel resilience initiative.
Reasons for staying
Ms. Saidou is now a member of a village market cooperative that sells the garden's surplus, beyond what members keep to feed their families, in the local market.
Profits are plowed back into village-level investments to improve land productivity, the UN food agency said. It is also one of many examples where WFP is better linking farmers to markets and expanding their profits and overall food access. 
While many men have left villages like Satara in search of work, Ms. Saidou now sees reasons for staying. 
"I am working for the good health of my children and to give them the chance to study and stay in our village," she said. "I want the garden to grow bigger, so that we have more to sell and more income to invest in the family and in the community."
Community role model
Around southeastern Niger's Gaffati village, for example, some 300 people are participating in a WFP-supported reforestation project that sees acacia trees, native shrubs, and grasses for fodder sprouting across a region made barren by seasonal drought, floods, overgrazing, and other harmful practices. 
"I am determined to teach other women everything I learned in the past years on how to cook healthy and nutritious meals to feed our children, and how to take care of ourselves as mothers," says 40-year-old Alia Issaka, a single mother of eight, who is enrolled in a community-based nutrition programme.
"It is not an easy job to be a role model for the community," said Ms. Issaka, who also heads a local women's association. "But, I feel a responsibility, so more women can participate in decision-making and in improving their family's health."
Learn more about WFP's work in Niger here.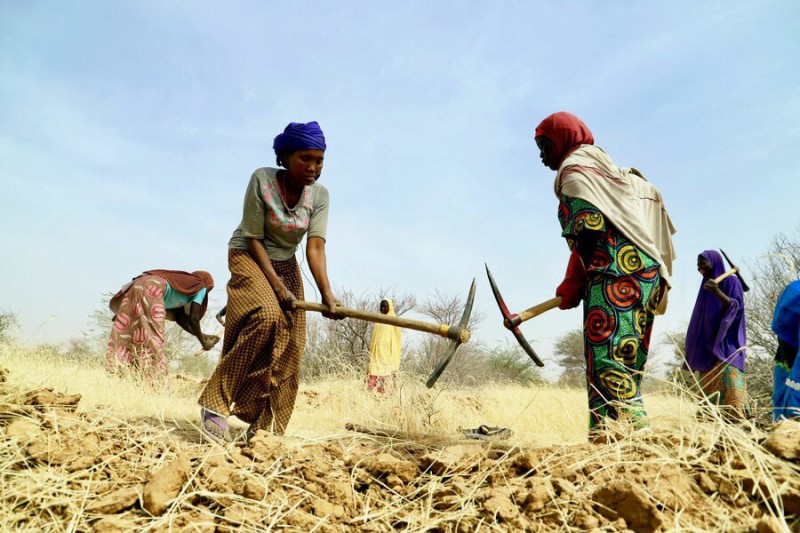 WFP/Souleymane Ag Anara Women work on a WFP land rehabilitation project in Niger, which promotes reforestation and delivers products like fodder that participants can sell.