Building resilience in Mozambique: A UN Resident Coordinator blog
© UN/Helvisney Cardoso UN Resident Coordinator Myrta Kaulard talks with the mother of a student after the opening of a new school building with UN support in Monapo District, Nampula province, Mozambique, in 2022.
Leading efforts by 25 UN entities and several partners for the last four years, she has been reflecting on efforts to achieve national sustainable development priorities that tap into Mozambique's immense resources and potential.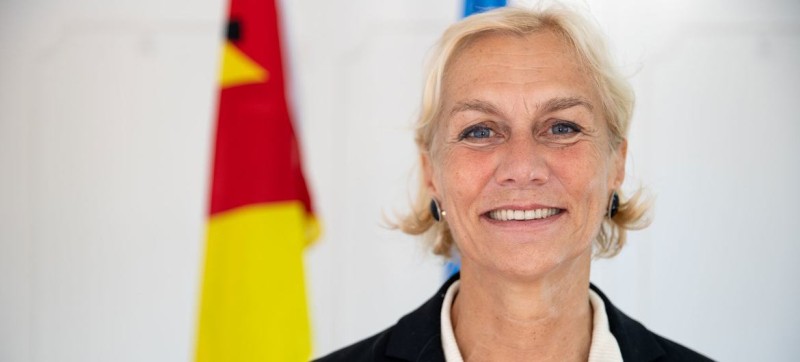 © UNCDF/Arete/Lisa Murray Myrta Kaulard, United Nations Resident Coordinator and Humanitarian Coordinator for Mozambique from July 2019 to June 2023.
"Mozambique and the Mozambican people are wonderful. The potential for sustainable development is enormous, considering its population, amazing wealth of natural and mineral resources, and geographical location of the country.
However, to be sustainable, development must be resilient to all types of shocks. Since mid-2019, my work and the UN Country Team's endeavour has been to support Mozambican institutions, civil society, and people to achieve sustainable development while responding and overcoming shocks due to climate change, COVID-19, and conflict.
The start of my assignment coincided with the UN development system reform and the formulation of a new Sustainable Development Cooperation Framework 2022-2026 by the Government of Mozambique and the UN. This resulted in a cooperation that focuses on the collective engagement of the UN in Mozambique with national institutions, civil society, and private sector.
I saw my role as one who listens and catalyzes capacities and resources to achieve priorities and overcome challenges. Four years on, through institutional will and leadership, civil society engagement, and a dynamic UN and international community's effort, I can say much has been achieved.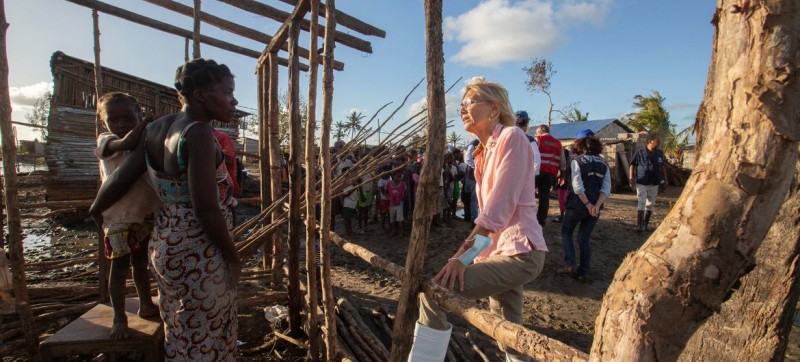 © WFP/Alfredo Zúniga UN Resident Coordinator Myrta Kaulard talks with people affected by Cyclone Freddy in Quelimane, Zambezia province, Mozambique. Freddy, the highest energy-producing tropical cyclone ever recorded worldwide, hit the country twice in the beginning of 2023.
Early warning systems saved lives
With UN support, public investments in early warning systems have been establishing a sophisticated forecasting and anticipatory action capacity, strengthening effective evacuation protocols and relocation plans, and expanding resilient building techniques and planning.
In the beginning of 2023, Cyclone Freddy, the longest-lasting and highest energy-producing tropical cyclone ever recorded worldwide, hit the country twice, causing considerably less loss of life than in 2019, when more than 600 people were killed by Cyclones Idai and Kenneth.
My first field visit, a few days after assuming my duties, was with António Guterres, the UN Secretary-General, to meet survivors of Cyclone Idai.
Every year since, an extreme climate event has devastated parts of the country. The Mozambican people's strength and resilience has left an enormous mark on me.
Hence, one of my top priorities was to leverage my convening and influencing role, scaling up the UN's whole-system capacities for climate resilience and disaster risk reduction.
Now, climate resilience and disaster risk reduction are one of the four strategic priorities of the Cooperation Framework, as well as of the international community's coordination platform, with exponentially growing success, despite titanic challenges.
Strategy to tackle COVID-19
Through a similar partnership, Mozambique implemented one of the most successful COVID-19 vaccination campaigns in Africa. Safety net schemes targeted the most affected populations and small businesses helping to absorb the shock of the crisis and mitigate negative coping mechanisms. Programs addressing gender-based violence enhanced their outreach despite movement limitations.
As UN Resident Coordinator and Humanitarian Coordinator, and thanks to guidance and support from the new UN Development Cooperation Office, I was able to contribute to UN entities' coherent engagement to respond to the pandemic through the UN multisector response plan to COVID-19. The plan was instrumental in shaping the UN support to institutions, civil society, and international community achievements.
Reconstruction efforts
In northern Mozambique, through our combined efforts under the cooperation framework and the humanitarian response plans, the UN and partners have provided immediate support to over a million internally displaced people and host communities. 
In parallel, we have been supporting Mozambique's plan for the reconstruction and integrated development of the north and the reconstruction plan for Cabo Delgado to rebuild and extend basic services throughout, with opportunities for all as the pathway for sustainable peace.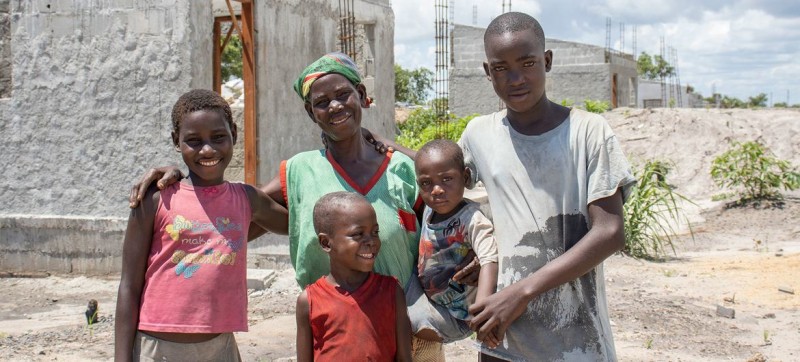 © UN/Brenda Hada Cecília Valentim, standing with four of her seven children in front of her new resilient house under construction in Mandruzi resettlement camp in the Dondo district, Sofala province, Mozambique, was among 1.8 million people needing humanitarian assistance following Cyclone Idai.
Gender gains and challenges
Gender parity at the Council of Ministers was achieved in 2021, placing Mozambique among the top three countries in Africa to have 50 per cent or more women in ministerial positions.
Women are true leaders and shapers in Mozambique, at all levels, from key state institutions to the community and the household level. My greatest admiration and respect go to them, for their courage, resilience, and wisdom. 
Yet, gender-based violence is extremely widespread. As a national priority, extended engagement in women equality is being leveraged to address gender-based violence building on the strong results of the UN-European Union's Spotlight initiative to eliminate violence against women and girls.
Supporting landmark progress
These are a few out of the many examples of the instrumental role that the coherent UN engagement is playing, through its reform efforts and the enhanced Resident Coordinator system to support landmark progress in Mozambique's sustainable and inclusive development.
It is a true and concrete demonstration of the Member States' vision on how to successfully achieve the values of the UN Charter."
UN Resident Coordinator
The UN Resident Coordinator, sometimes called the RC, is the highest-ranking representative of the UN development system at the country level.
In this occasional series, UN News is inviting RCs to blog on issues important to the UN and the country where they serve.
Learn more about the work of the UN in Mozambique here.
Find out more about the UN Development Coordination Office here.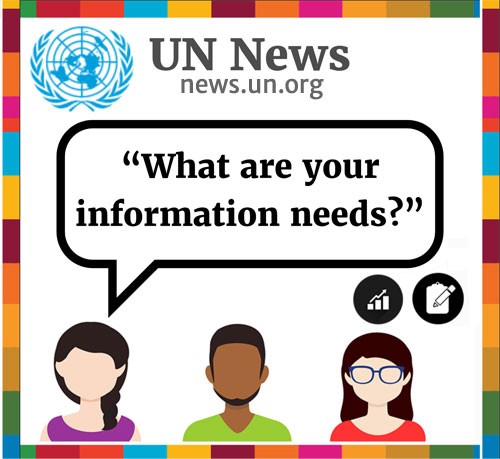 2023 UN News User Survey
Thank you in advance for agreeing to participate in our survey so we can improve and tailor our products to your needs. The survey will take no more than 4 minutes to complete.
We want to hear from you. Click here to take our survey!