At Caribbean Summit, UN chief calls for climate action, debt relief, and urgent aid for Haiti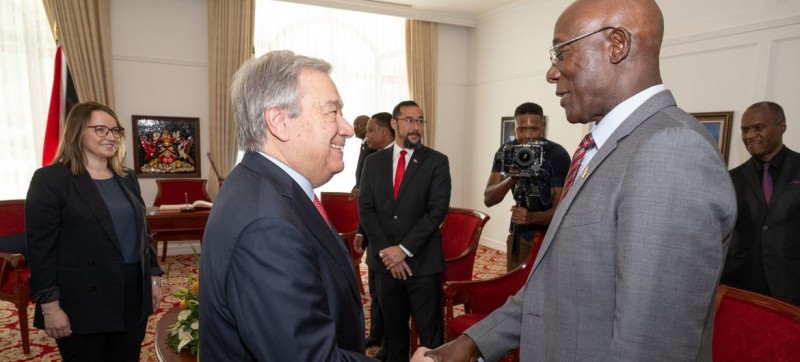 UN Photo/Eskinder Debebe Secretary-General António Guterres (left) is greeted by Prime Minister Keith Rowley of Trinidad and Tobago where he came to address the 45th meeting of the Conference of the Heads of Government of the Caribbean Community (CARICOM).
Haiti
The security situation in Haiti "is appalling," said UN Secretary-General António Guterres, recalling his recent visit to the fragile nation. He called for swift action at a time when the humanitarian needs are "soaring". And although "there is not yet the political solution in sight", the UN chief expressed hope and optimism.
"It is impossible to look at the crisis without seeing the long shadow of centuries of colonial exploitation, extortion, dictatorship, and other screaming injustices," he said. "We must help ease the suffering of the Haitian people." 
Commending the critical efforts of CARICOM leaders in addressing the situation in Haiti, Mr. Guterres called for increased support from the international community.
He stressed that lasting security requires strengthened democratic institutions, emphasizing the need for drastic improvement in the security situation.
In this vein, he reiterated his call to the Security Council to authorize a "robust international security force" to help Haiti's National Police in combating and dismantling gangs wreaking havoc across the country.
Spirit of CARICOM
Challenges seen in Haiti require greater engagement and solidarity, he said. The Caribbean Community's cooperation in economic and social development, fighting illegal drugs and arms trafficking, combatting non-communicable diseases and in advancing gender parity exemplify to him the "founding spirit of CARICOM".
Climate action championship focusing attention on the plight of small island developing States is another manifestation of that spirit, he said. 
Yet, the challenges confronting the Caribbean are "enormous", he added. Among them are the post-COVID-19 era that saw the collapse of the region's tourism industry and export revenues.
Growing debt amid dried-up liquidity and escalating climate emergencies require action, he said.
Outdated financial system
"Today's crisis has revealed an international financial system that is outdated, dysfunctional, and unfair," the UN chief said. To replace it, he referred to a plan to redesign the global financial architecture, including the Bretton Woods system, that he put forward in preparation for the Summit of the Future. 
He urged world leaders to invest in sustainable development and climate action, improve debt relief mechanisms, and create new financial tools such as debt-for-investment swaps in climate adaptation.
He also called for a change in the business model of multilateral development banks, a shift away from fossil fuel subsidies, and a fairer approach to concessional financing for middle-income countries.
1.5°C limit still possible
Turning to the climate crisis, he said limiting the global temperature rise to 1.5°C is still attainable, but requires a 45 per cent reduction in carbon emissions by 2030. He said his proposal for a climate solidarity pact urges major emitters to intensify emissions cuts and wealthy nations to support emerging economies in their efforts. The Secretary-General reminded about an Acceleration Agenda that is aimed at this.
"I urge Governments to hit fast forward on their net-zero deadlines so that developed countries commit to reaching net-zero as close as possible to 2040 and emerging economies as close as possible to 2050," he said.
Calling on governments to expedite their net-zero commitments, he also invited developed countries to "finally make good on their financial commitments to developing nations", including by doubling adaptation finance and replenishing the Green Climate Fund."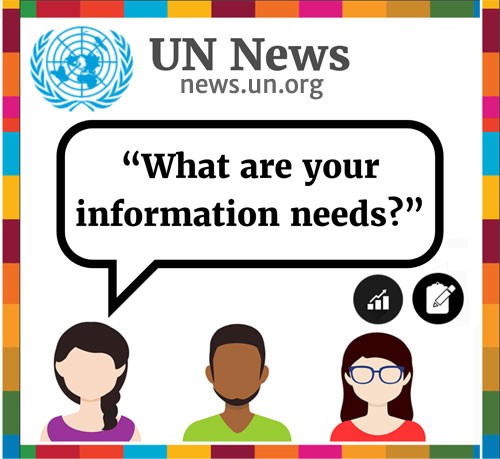 2023 UN News User Survey
Thank you in advance for agreeing to participate in our survey so we can improve and tailor our products to your needs. The survey will take no more than 4 minutes to complete.
We want to hear from you. Click here to take our survey!