"Yachtsmen find it hard to team up against"
Articles
/
Rubric:
People
"Yachtsmen find it hard to team up against"
November 2012 | People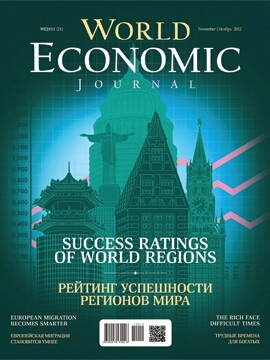 Valentin Zavadnikov is the Vice President of the SKOLKOVO Moscow School of Management, a former Board member of RAO UES of Russia, Senator of the Federation Council from the Saratov Region, Chairman of the Federal Council Committee on Industrial Policy, and the first Deputy Chairman of the Federal Council Committee on Economic Policy. He is also a yachtsman, a yachting enthusiast, as strange as that may sound. Strange, because his team, Synergy (he is both captain and co-owner), competes and does very well in the most prestigious yachting competitions in the world.
What kind of vessels did you start out with?
The first time I was on a yacht, I was two or three years old, because my father was fond of sailing. It was on the Black Sea. Then Father was assigned to Nakhodka, in the Far East. Until I was 14, I practically lived on yachts. I entered the Higher Naval Engineering School there and, quite logically, also became very devoted to the sport.
Poland had just paid off its debt to the USSR in kind, which included Conrad-25 plastic yachts. So I chased around on the Conrads. Everyone was racing on them from the early eighties until the mid-nineties, and you can still see them from time to time. Then came the 1988 Olympics in Seoul, so the Soviet athletes trained with us, in the Far East, in order to get acclimated to the Pacific waters. We competed with them, to mutual benefit, although we also went out on our own quite often.
Did you have any adventures?
Once we were returning on a Soviet boat from Haiphong, Vietnam, and we got caught in a typhoon. The boat capsized, rolled over, and was left without a mast. It was in two pieces: one was 5 meters long (5.5 yards) and lying on the deck, while the other was 12 meters long and dangling along behind. The contents of the batteries were under our feet –  a slurry of water and acid. Lots of fun! Somebody fell and broke a couple of ribs. But the boat still had to be saved.
We somehow reattached the remainder of the mast, secured it, and made our way to Vietnam, which was 350 miles away. None of the instruments were working and we went west by the sun. We were able to determine out latitude, which, I recall, was 16°. Longitude did not matter, since it was clear enough that the west is where the sun sets. We decided that if went 16° degrees to the west, we would end up somewhere in the area of Nha Trang, which we did.
We were somehow able to wash up on the yacht and used a special shampoo for sea water. We lathered up, dove in, climbed out, looked around – and there was a shark. But it got there just a bit late!
Was your team, Synergy, already part of your plans back then?
No, that came later. In the mid-nineties, many coastal businessmen, including myself, left the area. Some went to Moscow, others went abroad. Why? Let's call it an inadequate business environment. In any case, we left and forgot about sailing for a time. Then later we got all our friends together and agreed to chip in to buy a boat. No lofty goals, just to relax on the boat or participate in amateur regattas. So we started looking at yachts and realized that it would not work –  you have to get either a cruiser, which is not suitable for racing, or a quality sports boat. But then you need to have a seriously trained crew. As you might guess, we chose the second option. We bought a plastic Grand Soleil40 and converted it into a racing cruiser. Then we began picking the crew. Some of those guys are still involved in the project.
How did you form the team?
We tried to use an entirely Russian crew. We are still trying, but unfortunately it just isn't possible.
Not possible?
The racing results show it. I actually think that it will be at least 15 or even 20 years before there are world-class Russian sailing teams. First of all, we simply have few professionals in this field. And secondly, without outside experts, it will be difficult to get rid of the "collective farm" mentality. When instead of collectively moving forward, you are teaming up against someone else. Searching for enemies to blame for our failures. Foreigners just have more experience in the competitive arena. That's why, for now, we have to attract foreigners.
Did your position in the Federation Council help the team?
No, and it could not have helped. This is a private project, after all. Sponsors, yes, we're looking for sponsors, but they are mostly foreign. And the state should not help a particular team. It should help to develop the sport – in this case yachting. For example, there was a yachting photo exhibit in the entrance hall of the Federation Council in the mid-2000s. I don't think that can be characterized as "government participation in the affairs of a team."
What yacht is Synergy now racing on?
The AudiMedCup circuit, which the team had participated in for several years with a Transpac 52 class yacht, ceased to exist at the end of 2011. Back in fall 2010, we had started racing on an RC44, which is one of the leading monohull classes, developed by the great yachtsman Russell Coutts. Racing on the RC44 yachts is exciting and lots of fun. Everything about them is great: the contest, the abrupt turns, the sporting suspense. And we really liked the whole project. The boat is a good, tough one that does not require an outrageous amount of physical prep, extremely successful in terms of logistics. Everything fits in two standard containers. The boat is 40 feet long, and everything it needs fits in 20 feet. Racing boats aren't for sea voyages. You just put the RC44 on a train in a container, put it in the water, and race. And most importantly, all the best athletes on the planet are in this class. Racing with the others just isn't as interesting. We have a second yacht, a Melges32 class, which we are only just starting on.
And how are things going for you?
As I already mentioned, Synergy is currently racing in two classes, the RC44 and Melges32. The RC44 season was super-successful; some even call it historic. The crew laid a good foundation in the off-season, got into great shape, and during the season started showing good results. They took the match-racing bronze in the first regatta in 2012 in Puerto Calero. In the next one, they took the gold. We became circuit champions in this form of competition. These results, of course, are outstanding. We began winning fleet races. But the Melges32 is a relatively new class: compact, fiberglass yachts with high speeds and stiff competition. We debuted last summer, but we have big plans. Over the year ahead we intend to take part in more than 10 regattas.
How do you manage to coordinate such a serious sport with a no less important job?
If you really love something, you will always find a way to fit it in. I schedule my work in such a way that I can participate in, if not all the races, at least all the regattas.
Text: Sofia Ponomareva