The Secret of Seasonal Dishes
Articles
/
Rubric:
Investments
The Secret of Seasonal Dishes
April 2013 | Investments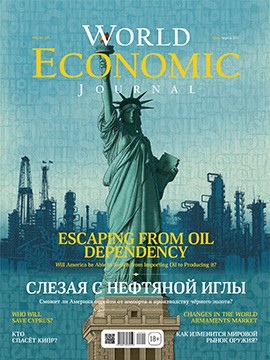 WEJ is beginning a new category on investing in emerging markets. Starting things off is American company Hines, which had its beginnings in small warehouses and today deals in the largest businesses and trading venues in the world. Hines came to Russia more than twenty years ago.
Making a Name for Themselves
The company's history begins in 1957, when a young engineer by the name of Gerald D. Hines created a tiny firm. It started building warehouses and small office buildings. These were the first bricks laid along the road to larger projects. Ten years later, Shell Oil hired Hines to build an office in downtown Houston. After this, the company's portfolio was filled with large projects such as: The Galleria, Penncoil Place, Transco Tower, and more than 400 other skyscrapers.
Today, Hines Interests Limited Partnership is one of the largest corporations in the world, with offices in 18 countries. The company currently invests in real estate, development, and property management.
More than 20 years ago, the company started taking interest in emerging markets, where they still invest. In 1992, Hines set up shop in Russia.
Green Business
Many investors know instinctively that an investment is profitable if the object is in line with current trends. And in a world that is talking more and more about saving natural resources, and renowned designers are releasing eco-collections, major companies are increasingly choosing green buildings for their offices. According to Cushman & Wakefield, 70% of European business tenants said that having eco-features in the office was important and 40% of them especially emphasized that a green environment is a necessary condition of the lease.
With this in mind, in 2010 Hines implemented a green reform for the Ducat Place III business center in Moscow, built in 2007. The building was equipped with water meters, an elevator operation system, controllers for sanitary and ventilation equipment, and light sensors that turn on and off based on how bright a space is. All of this helped to create energy savings of 35%. Lessees liked the idea of a green office and 100% of the space in the business center was occupied by companies like Goldman Sachs, Cushman & Wakefield, Clifford Chance, Citibank, and the European Bank for Reconstruction and Development. The Ducat Place III's high standards were praised by the United Kingdom and was the first business center in Russia to receive a BREEAM certificate – the leading standard in assessing the environmental and sustainable efficiency of buildings. Two years later, Hines sold Ducat Place III, with an area of 50,000 m2, for $370 million (experts had placed its minimum value at about $300 million).
Adjust to Fit
The desire for green isn't the only thing embodied in Hines' conceptions, but also a desire for style and affordability. The first outlet mall has opened in Russia, bringing numerous stores selling brand name clothing at discount prices year-round. In a joint venture with the Belaya Dacha company, Hines invested in the construction of two Outlet Village Belaya Dachas: one in the Leningrad region and one in the Moscow region, for $166 million and $160 million, respectively. Most of the funds that Hines put in to the outlets were revenue from the sale of the green Ducat Place III. But the company has decided not to stop at these shopping plazas.
Last October it was announced that the Hines Russia & Poland Fund, under the management of Hines together with Espro Group and the Aton Fund, began construction on the Kiev Shopping Center, which will include the Outlet Village Kiev, with an area of 40,000 m2 and a retail park. Total investments topped $284 million. The first phase of the outlet mall is 20,000 m2 and will open in 2014.
Today many countries have these shopping centers – the U.S., France, Germany, Japan, Canada, and India. They carry sportswear, casual, and business clothes from last season, in the luxury and premium class. Investments in this sector of real estate are a very profitable venture. Experts believe that Russian buyers and retailers are ready for the emergence of outlets and commercial real estate market experts predict that the number of these "fashion villages" will grow by 35%.
In addition to outlets, the U.S. warehouse complex developer has in its arsenal FM Logistic, the Gogol business center (which it acquired for $100 million), and the elite Pokrovsky Hills (its main lessees are the Embassies of Canada and the U.S., IKEA, and Chevron). In addition, the company provides management for a host of other facilities, including a multi-purpose complex and office centers.
The success of the American Hines in Russia can be explained by the fact that the company always strives to address the demands of the market. It is keeping pace with the green craze and has a targeted focus for each project. So if there is a village for foreigners, nearby there will obviously be an Anglo-American school. Hines is like a seasoned chef who knows exactly what dish to serve when. That is to say, it knows which projects are in demand today.
Is it worthwhile to invest in the Russian real estate market today? Why? What should an investor consider when investing in the Russian real estate market?
Vladimir Sergunin, Director of Business Development, Colliers International Russia
It is undoubtedly worthwhile, for several reasons, the main one being the greater profitability compared with developed countries. For example, the profitability of real estate in Western Europe ranges from 4-6% per year and in Eastern Europe from 5.5-7.5%. In Russia, real estate has returns of 9-13% while the country risk remains less than 200-300 base points. This makes Russia attractive for investments, as evidenced by the large number of European and U.S. investors in our market, especially in the office and shopping real estate sectors. In addition, Russia stands out in its location compared to the other BRIC countries, which makes European investors more interested.
Our legislation presents some peculiar features (primarily the bureaucratization, which forces investors to spend more time on negotiation and licensing procedures in any process related to real estate). Other than that, in Russia the market is very straightforward and promising for even the most conservative investors, as evidenced by the large deals made by institutional investors, such as Morgan Stanley's acquisition of a number of properties in Moscow and around Russia.
Pavel Zdradovskiy, CEO of Paul's Yard Realty, an elite real estate agency
Investing in the Russian real estate market is worthwhile only if you have a good grasp of the actual market situation. The first and most lucrative are the new buildings in Moscow. But this market is saturated and sites are extremely limited, which is why "getting a ticket into the city" is extremely difficult. Many developers have started seeking out sites in the areas surrounding Moscow. But there is one big difference – buyers don't see and never will see the broader Moscow metro area as "Moscow" as long as it lacks the infrastructure Moscow has. But paradoxically, the market for summer houses and country homes in the Moscow region, with the right development concepts, is still the most promising, in our opinion.
According to our data, to date there are only about 3,000 clients on the market in various sectors. Nonetheless, looking closely, you can draw very different conclusions:
1. The vast majority of offers are for outdated "do it yourself" projects that are in need of repairs or reconstruction at significantly higher prices;
2. Of the 9,118 offers, no more than 3-5% are for liquid properties;
3. Liquid properties are on average sold within six months;
4. Each property is in a neighborhood that is outright hostile.
But therefore, if a deal is handled correctly in all respects, a market asset in the suburban real estate market could bring profits of at least 100%.
Evgeniy Semyonov, Partner and Director of the Investment and Sales Department for Knight Frank
Foreign investors' interest in the Russian market is limited, as a large number of players are those who have already been working in Russia for a while – between 2 and 10 years. These are mainly European and North American investment funds. The profitability of office real estate on the Russian market can be up to 8-9% annually, commercial up to 9-10%, and industrial up to 11%. While these are indeed high figures, foreign investors often prefer more stable and transparent markets.
Every investor should conduct preliminary market research and it's advisable to bring in a professional consultant. It is also necessary to understand the legal aspects of acquiring and owning property and to get tax advice from auditors. But these are universal recommendations that apply to any country, not just Russia.
Text: Darya Getmanova