It is Time for an Intervention on the Market
Articles
/
Rubric:
Investments
It is Time for an Intervention on the Market
The article is published in: July – August 2012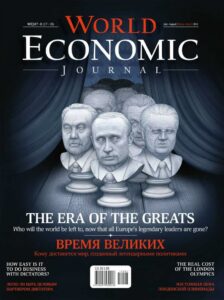 What steps can be taken to stimulate the Russian economy? Old equipment and expensive electricity can no longer help the country move towards a bright and competitive future – today, the key to success is modernizing production. And when it comes to changing market conditions, it helps to stay on top of things and "in the saddle". Igor Shamis, the president of Pilsen Steel and "Bummash", LLC., discussed what steps need to be taken to stay in control and more with the WEJ.
In your opinion, what is the current situation on the world market, given the changes that we are seeing in the politics of the "Old World"?
Everything that happens on the market is a reflection of the situation in Europe right now. Investors today are not investing money, and bankers are not providing loans, for one very simple reason: no one knows what fate awaits the European Union and what will happen with the Euro. In 2008, it became clear that there was a liquidity problem in the USA, and now, in 2012, the world is watching the European community fall apart because there is no political unity.
Today, there is more and more discussion about reducing the demand on the market, particularly in metallurgy. This is in spite of the fact that many retailers are beginning to replenish their stocks and that real consumption of metal remains low. What steps do you think need to be taken to solve this problem?
To date, the volume of demand is falling because there is very little speculative demand, in the same way that there is neither market nor deficit in today's world. A huge demand was created in prior years because the stock markets were speculating and brokers were earning a lot of money. But sooner or later, it all had to end, and we were left with producing not speculative, but actual demand.
Does the Pilsen Steel company have a plan of action to avoid the unpleasant consequences of yet another crisis?
A competitive advantage is probably the most important thing. For example, the products that Pilsen Steel makes are not unique – we don't have a monopoly, and because of that, we have to compete with 100 other plants that are making the same exact products. And we do that by offering the best price and quality and by providing good services. We show the market that we love our products, that we will continue producing them no matter how bad things get, and that we will pack our product in a beautiful wrapper. People can talk about falling demand all they want, but in the end, the market will continue consuming as much as it needs to, and no less. In terms of our company's strategy, I would say that it is a time for intervention on the market. It is necessary to acquire companies in different countries and study the rate differences, because now is the best time to find the lowest prices and most beneficial terms. And it is best to buy companies or invest in countries with strong economies, such as the USA, Germany, and France.
In globally difficult economic times, how does your company manage to keep jobs and continue offering your employees the same benefits they were getting when the economy was stable?
We employ professionals who have many years of experience and learn on the job. Of course, we have the option of firing people, but then where can we find an appropriate candidate to fill the position? And how much will it cost to re-teach this person? We also cannot forget that the human factor has to be taken into account.
Under the current market conditions, what helps businesses stay afloat, beyond the traditional trio of price, quality, and service?
The market today has changed in such a way that companies have to constantly compete with one another by optimizing their costs. You can use the internal market to sell your products, so that you pay less for the transportation of your products, or you can adjust workers' wages so that they are tied to the volume of production. You can also review many smaller articles that could help reduce costs. And of course, upgrading technology is always important. Technology in Russia is particularly underdeveloped, which means that, in today's world, it is generally uncompetitive, because the cost of electricity has greatly increased. Our industry has to completely change, technology-wise, in order to reduce variable costs.
Will this be done in the next five years, for example?
We have to, so that Russia can move away from its dependence on raw materials and so that it can become more powerful economically. We have to work to move in this direction every day, by changing our technology and buying new equipment. Only with a technologically advanced manufacturing system in place can we hope to have a strong economy.
Text: Daria Getmanova