France Is Electrifying Its Wheels
Articles
/
Rubric:
Companies and Markets
France Is Electrifying Its Wheels
July – August 2013 | Companies and Markets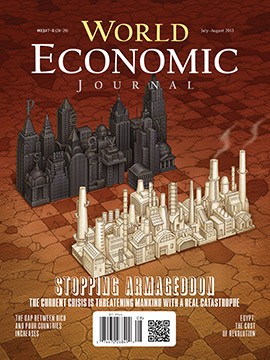 At the Geneva Motor Show in March, Renault unveiled a new model to the public – the Renault ZOE – a 100% electric car, and at the end of April they announced the creation of an electric sports car, the Renault Twizy. The popularity of environmentally friendly transportation is growing: Today there are more than 5,000 electric cars in France and street cleaners are getting some help from electric street sweepers.
France was the first country in Europe to consider reducing noise and private cars in its cities. The Director of Auto bleue in Nice, Thierry Chiocca, told WEJ: "The city is surrounded by the seashore on one side and mountains on the other three sides. The transportation situation used to be very bad: endless traffic jams, many cars, insufficient parking, and poor environmental conditions. Almost every family in Nice has two cars. In order to reduce them, a decision was made to create a public rental system." Nice's Mayor Christian Estrosi, who is France's former Minister of Industry, said: "If you need a second car, switch to public transport; but if that doesn't suit you, use Auto bleue, a system that replaces your second car at home." At almost the same time in Nice and Paris, tenders were issued to develop the rental of public electric cars. In Paris, the Billore Group won, and in Nice, Veolia Transdev and EDF. Veolia Transdev has another project, the Yelo mobile, in the small town of La Rochelle in western France.
Paris Mayor Bertrand Delanoe had similar goals to those of Nice Mayor Estrosi, and was came up with the Autolib idea. Neither company has yet to bring in any substantial revenue – only two years have passed since their launch – but both projects were designed with a 10-year perspective. Autolib spokeswoman Vanessa Colombier told WEJ that business isn't yet profitable, nor are they expecting spectacular profits next year. Deputy Director of Auto bleue Mathieu Bernasconi had similar sentiments: "For now it is still too early to talk about project profitability, as only two years have passed since its beginning. The project is being subsidized by the state. Profits will grow as the number of clients grows each year. We would like to break even without city support within 12 years." Auto bleue currently has 50 parking spaces and 153 cars and by the end of 2013 they will have 70 spaces and 210 cars.
Bernasconi told WEJ: "The two companies, Autolib and Auto bleue, are completely different. In Paris, customers can pick up a car at lot A and return it to lot B at their destination. This service is more expensive, and the cars are often scratched or dirty, since too many people use them. I think this suits them. But our system is a little different: The customer returns the car to the same place he got it, meaning it's always available. We set aside four times more spots than cars, so that electric car owners can recharge them for free. Our customers live or work near the parking lots, usually have scooters, and from time to time travel with Auto bleue." Statistics show that 70% of Auto bleue users are male and 50% of customers reside in Nice, with the rest being tourists.
The Bollore Group acquires the transport for Autolib. "We did not get any help from the authorities in purchasing cars – city hall helped us build parking lots and charging bays. The Bollore Group is responsible for developing Autolib's business," said Autolib's Colombier. As for Auto bleue on the French Riviera, Veolia Transdev and EDF handled procurement. Thierry Chiocca, Director of Auto bleue, said, "Since this is a public car rental, the city is paying for the construction of wired parking. We have a contract until 2022 and the city gives us part of the money every year."
Autolib only offers its customers one kind of electric car, the Bluecar from the Italian company Paninfarina, which was specially created for the Bollore Group. Subscriptions cost €144 per year plus €5 for each half hour of use, or €30 per month plus €6 for half an hour, or €15 per week and €7 for half an hour, or €10 per day and €7 for half an hour; the first 20 minutes are at a reduced rate for all types of contracts. There is another interesting fare for four people, either a family or other group: a 16-hour limit per month on car use, with an annual subscription that costs €165 per month.
Auto bleue has a different policy. They have significantly expanded their fleet of cars to the four-seat compact Peugeot iOn and Mia and the Citroen Berlingo and Peugeot Partner vans. These four models will attract more customers, such as private entrepreneurs or those who need to transport small loads and don't want to hire a driver. Customers can rent any car under the contract. Tariff plans differ greatly from the Parisian ones. Tariffs without a subscription are €8.5 an hour, the morning rate is €21 for four hours and the evening rate is €21 for six hours, or you can rent a car for 14 hours for €45. For those who need a car frequently, there is a six-month plan for €50 and the hourly rate drops to €5.
Colombier says that across France, there are plans to build a large number of parking spaces as part of Autolib's development project over the next 12 years. There are more than 800 electric parking lots in 47 cities today.
Car maintenance today is fairly expensive and the electric car rental service helps spare people from the worries of repairs and maintenance, buying gas, and cleaning. This is why electric cars for public use are in high demand. According to Colombier, there are 6-7,000 requests in Paris every day, and on weekends more than 9,000. The fleet in the capital has 1,800 Bluecars and 73,000 subscribers; that means that every car is in use several times a day. Chiocca and Bernasconi both say that an average city trip doesn't take more than half an hour, so each car could be rented up to three times a day. In Nice alone, more than 2,600 electric cars are rented per month, or 140 per day or 31,000 per year. The figures are much lower than Paris's, but the city is just a fraction of the size of the capital.
The technical capabilities of today's electric cars can't totally be compared with gas or diesel cars. They accelerate well, but can go without recharging for only 6-7 hours, during which time customers have to take care of all of their errands. If the driver drives far from the city and can't recharge the car, the company will call a tow truck, for which the renter bears the cost. Each car comes complete with a battery charger that can be plugged into an ordinary household outlet, making electric car rentals only possible in the city. If you want to travel far, it's better to use a regular car.
Text: Maria Kopteva