Eurasian Customs Union Get the Green Light
Articles
/
Rubric:
Companies and Markets
Eurasian Customs Union Get the Green Light
December – January 2014 | Companies and Markets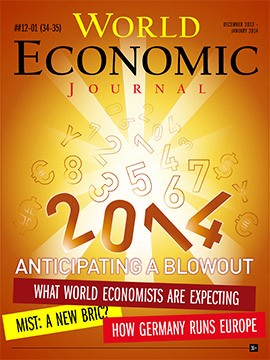 Created in 2011, today the Eurasian Customs Union (ECU) is the largest economic platform in the former Soviet Union. Made up of Russia, Kazakhstan, and Belarus, the ECU is a common customs territory with total annual external trade of $939.3 billion and internal trade of $68.6 billion. The ECU's main objective is to intensify economic relations and strengthen the overall position of Customs Union members on the world stage. The ECU faces some major challenges in the near future, including prospects for expansion, which is directly dependent on its economic attractiveness and ability to offer favorable terms to all participants.
Of the three ECU member countries, Belarus is currently getting the most out of the arrangement. It receives significant oil and gas discounts from Russia, saving Belarus up to 15.9% of its GDP annually (according to 2012 figures), while simultaneously increasing its exports to Russia and Kazakhstan. In just two years, Belarus's imports to Russia have grown more than 10% and receive preferential treatment in the Russian market. On the other hand, joining the ECU deprived Belarus of its ability to manipulate tariffs for certain sectors of its national economy.
Kazakhstan is also currently benefiting from membership in the ECU and has increased its exports to member countries by 30%. Given that economic legislation is more liberal in Kazakhstan than in Russia, the country has seen more than 5,000 enterprises and ventures switch their registration from Russia to Kazakhstan in order to take full benefit of the tax regimes there. But Kazakh businesses have repeatedly shown their displeasure at the growing import tariffs. In Russia, tariffs were significantly higher than in Kazakhstan and Belarus, and in the course of harmonizing customs tariffs, import-oriented businesses, most of which are in Kazakhstan, lost from ECU membership.
Russia currently benefits from the ECU to a much lesser degree. Member economies are of course not comparable in scale: Russia's GDP is 62.4 trillion rubles, accounting for 88.5% of member countries' total GDP. The economic structure of Russia and Kazakhstan is similar, so it isn't possible to substantially increase trade between them. 77.3% of exports from Russia are oil products and raw materials, and 91% from Kazakhstan, which is why the success of both economies currently depends little on the overall economic project. For example, in 2011, Russian trade with ECU countries and with the rest of the world grew comparably. But in the first year of the ECU, trade with Kazakhstan grew 30.6%, with Belarus 37.7%, and with the rest of the world 31.2%.
Given that Russia has lost some of its tax base to Kazakhstan and is losing some profit from supplying energy to Belarus with reduced rates and subsidies, tangible effects from the ECU are expected only after it expands and reaches an economy of scale.
Other candidates for ECU membership include four former-Soviet countries and a number of foreign countries which have expressed interest. The most coveted member to the ECU, Ukraine with its 45.5 million residents, is currently facing a political crisis caused by its temporary refusal of an Association Agreement with the EU. The likelihood of its joining the ECU is declining.
The most favored candidate for the ECU is Armenia, which recently refused to sign an agreement with the EU and instead agreed to a roadmap to joining the ECU on December 12. Armenia's economy is significantly stronger than the two other candidates from the post-Soviet area, Kyrgyzstan and Tajikistan, so its joining the ECU would not incur significant additional costs to "pull them up" to ECU levels.
Kyrgyzstan and Tajikistan, on the other hand, are much weaker than Russia, with $1,070 and $837 GDP per capita, respectively, which is 13 and 17 times smaller than Russia's GDP. Given that the Russian economy dominates the Union, balancing the potentials of the different economies would primarily be borne by Russian taxpayers. It's worth noting that the inclusion of Kyrgyzstan and Tajikistan is mostly an issue of politics and the willingness of Russian leadership to "pay it forward." Nevertheless, Jeffrey Mankoff, Deputy Director for the Russia & Eurasia Program at the Center for Strategic and International Studies, says: "Kyrgyzstan seems likely to join the ECU, though, having learned from the Kazakh experience, the Kyrgyz are pressing for some kind of carve-outs to protect their quite lucrative trade with China. Tajikistan will probably join ECU too, but after Kyrgyzstan, since it would not have a common border with the ECU otherwise."
Text: Anton Barbashin