Taiwan: Challenges and Opportunities
August 2014
|
Global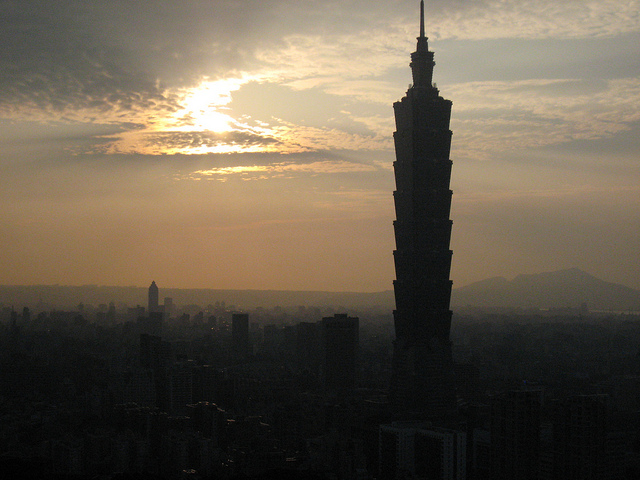 photo by My Day
A strong economy is particularly important for Taiwan, as its political autonomy is heavily dependent on economic stability. Taiwan's Directorate-General of Budget, Accounting and Statistics projects 2014 economic growth at 2.82%, which would represent a 3-year high growth rate for Taiwan whose economy was hit hard by the global economic slowdown due to its heavy reliance on exports. Taiwan's GDP currently stands at 495.65 billion USD, and the island ranks as the 27th largest economy in the world according to the International Monetary Fund (IMF).
Taiwan's recent economic growth has primarily been based on its pivotal role as a global leader in semiconductors and in information technology products. Taiwan boasts the world's largest semiconductor foundry (and industry-leading research & development spender) in Taiwan Semiconductor Manufacturing Company (TSMC), is home to the world's largest cluster of top-of-the-line semiconductor fabs, and plays a huge role in the industry as a whole. Taiwan is also among global leaders in mobile chipsets, networking/cloud technology, and flat panel manufacturing - all of which are rapidly growing industries.
The continued success of Taiwan technology companies is instrumental for economic growth in Taiwan today and into the future. However, there are concerns that Taiwan companies may not be prepared for the shift from traditional to mobile computing. A continued global shift away from personal computers and towards mobility has left Taiwan lagging behind its neighbors and competitors in mobile innovation. Nevertheless, with a new push for 5G and LTE network development, and Taiwan's growing success in cloud computing, domestic technology companies are already pushing to become more competitive in this regard.
Another arena where Taiwan can focus on innovation and economic growth is in the energy sector. Taiwan lacks natural resources for energy independence, and the island currently imports approximately 98% of its energy, mostly in the form of oil and coal. This massive spending on energy imports accounts for an unsustainable 14% of GDP spending, and forces Taiwan to be heavily dependent on trade with China and the Middle East. Taiwan has also expanded its imports of liquefied natural gas, and in March signed an agreement with a Malaysian firm to import an additional 2.25 million tons of LNG annually. It is therefore unsurprising that Taiwan has become an innovator in solar energy, and is expanding its use of wind turbines and other alternative energy sources. By focusing on alternative energy and diversifying its energy usage, Taiwan has an opportunity to make smart investments that will bring economic growth.
With domestic unemployment at a five year low and the world economy slowly improving, Taiwan appears poised for economic success. Yet Taiwan now stands at an economic crossroads, and the biggest challenge that the island currently faces is maintaining its competitiveness as a trade partner both regionally and globally. In 2002, when Taiwan acceded to the World Trade Organization, the dynamism of the global economy had Taiwan well positioned for growth. Today, at a time when regional and bilateral trade agreements have become the new norm, Taiwan finds itself unable to act proactively on new trade deals at a rate matching its principal competitors such as South Korea. While 2013 did see new trade agreements signed with New Zealand and Singapore, Taiwan lacks much needed agreements with other major trading partners - including with the United States and Europe. Taiwan's leaders must now take proactive action to enter both bilateral and multilateral trade pacts, in order to maintain its attractiveness as a trading partner.
During the economic downturn, Taiwan drew closer to its main trading partner China - entering one major trade agreement (Economic Cooperation Framework Agreement, ECFA) and negotiating a trade in services agreement that is currently pending in Taiwan's Legislative Yuan. And while Taiwan's commercial relationship with China is continuing to develop, economic overreliance on trade with China places too much power in the hands of a country intent on folding Taiwan into its full embrace by peaceful or forceful means. While it is certainly important for Taiwan to capitalize on its unique cultural and economic relationship with the mainland, it should not come at the cost of stepping too far into China's sphere of influence. Instead, Taiwan must continue to entrench its economy as a major player in the Asia-Pacific, making the region as a whole dependent on diverse trade relationships that would be irrevocably damaged by cross-Strait aggression.
Two new regional trade agreements - the Trans Pacific Partnership (TPP) and the Regional Comprehensive Economic Partnership (RCEP) - represent existential threats to the island's economic vibrancy, unless Taiwan can overcome political hurdles, and China's objections, to join them as a member. Taiwan must therefore make every effort to seek membership in the TPP and RCEP. Yet the opportunity to join these high-standards agreements could easily be squandered without decisive action from both Taiwan government and private sector leaders, and Taiwan has no choice but to unilaterally enact trade reforms in a bid to demonstrate its readiness to take its place as a full member in both.
The most pressing need is to gain inclusion in the Trans-Pacific Partnership. Once concluded, TPP members will account for over 40% of world GDP. Negotiations are underway between the 12 nations currently included in the partnership, and Taiwan cannot afford to be left out of the discussions. Should Taiwan fail to join the TPP, they risk marginalization and trade diversion towards competitors that are included in the partnership.
Taiwan's leadership has finally expressed an interest in joining the TPP. But admission requires unanimous support from current members as well as the ability to meet the standards of the pact, and Taiwan faces an uphill battle on both fronts. With the Ma Administration in its final two years in office, now is the time for a unified push to enter the TPP and the RCEP, and to prepare Taiwan for other high-level bilateral and multilateral trade agreements. If Taiwan does not successfully position itself to be included, perhaps as a second-round partner, it faces marginalization and relegation to status as a second-tier trading partner. Such an outcome could prove dire for Taiwan both economically and politically.
Commentary by the president of the US-Taiwan Business Council, Ruppert J. Hammond-Chambers and Zachary Kessler. Exclusive for the World Economic Journal.